Essential Costa Rica Tour
Discover the Adventure, Culture, Beauty & Essence of Costa Rica!
Tour Highlights

8 Days / 7 Nights in Costa Rica
Volcano / Guaitil Pottery Village / Beach / Forest
Driver / Bilingual Guide / Photographer
4 Star Hotel Accommodations
Breakfast Every Day of Your Stay
Some Extra Meals as Described Below
Preferred Airport: Guanacaste (LIR)
REAL 100% Guaranteed departures.
The most inclusions of any tour.
Stay at the hotels listed below 100% Guaranteed.
The perfect 7 night tour of what makes Costa Rica one of the most popular destinations in the world. Experience its natural beauty, breathtaking rainforests, exceptional beaches and best attractions. Enjoy stays at 5 great hotels, 6 fantastic activities including zip lining, horseback riding and more. All in the comfort of a state of the art bus with an expert guide and professional photographer.
Introduction
The eight day Costa Rica Monkey Tour package includes airport shuttle transfers, transportation between tour attractions, lodging in some of the best hotel options in the country such as The Hilton Garden Inn, El Establo Resort, Hacienda Guachipelin or Hotel Borinquen and Hotel Villas Playa Samara. In addition to that, your tour will include any entrance fees that may be charged at various attractions and activities, as well as accompaniment by our fully bilingual guides and a great photographer.
Day 1 - Arrival in Costa Rica via Guanacaste (LIR) Airport
Welcome to Costa Rica! Get ready to explore Guanacaste and enjoy all the eco–diversity Costa Rica has for you! You will land at the Liberia International Airport where a shuttle service from the Hilton will meet you and take you to your first night's stay at The Hilton Garden Inn where you will rest, relax and prepare for your upcoming adventure. You will surely enjoy the amazing sleep systems (ergonomically designed beds) they offer for the perfect rest!
You can decide to stay at the Hotel or explore the town of Liberia by taking a taxi or a bus. You can request more information in this regard at the front desk.
Day 2- Transfer to Hacienda Guachipelin
Once you've finished enjoying the amazing buffet breakfast at the Hilton Garden Inn, you will be taken to The Hacienda Guachipelin for a fully loaded adventure day tour that includes zip lining, majestic waterfalls, a canyon tour, tubing adventure, thermal waters, hot springs and horseback riding. You will then enjoy a lunch buffet at the restaurant with the rest of the group. After this amazing journey, you will then spend the night at Hotel Hacienda Guachipelin or Hotel Borinquen depending on availability.
Day 3 - Transfer to Monteverde Cloud Forest
Right after breakfast, you will be taken to the Monteverde Cloud Forest. It has been ranked 14th in terms of places you must visit in the world. Here you will trek through the cloud forest on board the Sky Walk and Sky Tram Tour. You will be able to see the cloud forest from a bird's eye view. Since the sky tram resides high over the forest canopy, you will observe wildlife as it happens. After this, you will have the remainder of the evening at your disposal to either discover the village of Monteverde, or relax and enjoy the amenities of Hotel El Establo where you will be staying for the night.
Day 4 - Transfer to Palo Verde National Park
Hotel El Establo offers an exquisite breakfast and right after this Palo Verde National Park is your next destination. Here you will get the opportunity to embark on a boat safari tour and get a close up view of crocodiles, monkeys and hundreds of different species of birds and reptiles. After this adventure you will be visiting the cultural pottery town of Guaitil and learn about the Costa Rican traditions and culture while observing how pottery has been made for centuries. You will also acquire knowledge about historical facts of Costa Rica. Afterwards you will make a quick stop to visit the oldest church of Costa Rica, built in 1644 in Nicoya. After a short drive from Nicoya to Playa Samara and Playa Carrillo you will then arrive at Hotel Villas Playa Samara or Hotel Nammbu for the rest of your trip.
Day 5-7 - Transfer to Pacific Coast
You will be at Hotel Nammbu or Hotel Villas Playa Samara enjoying one of the most magnificent beaches that Costa Rica offers. Recently voted the 2nd best beach in Central America by TripAdvisor; Samara is a top destination to relax and enjoy the sand and sun. You will also be entitled to a 2 for 1 discount in Spa Packages. Onsite you will find a Monkey Tours desk with many other activities you can schedule through our tour operator.
Day 8 - Transfer to Guanacaste (LIR) Airport for your flight home
Time to go back home!!! The Costa Rica Monkey Tours team will take you back to the airport right on time for your flight back home! We hope you have enjoyed this Costa Rica adventure arranged specially for you.
Destinations Visited
Rincon de la Vieja Volcano

Monteverde Cloud Forest

Palo Verde National Park

Guatil Pottery Village

Samara & Carrillo Beach
Departure Days
Tour begins every Monday and Friday. Please call in advance for available dates.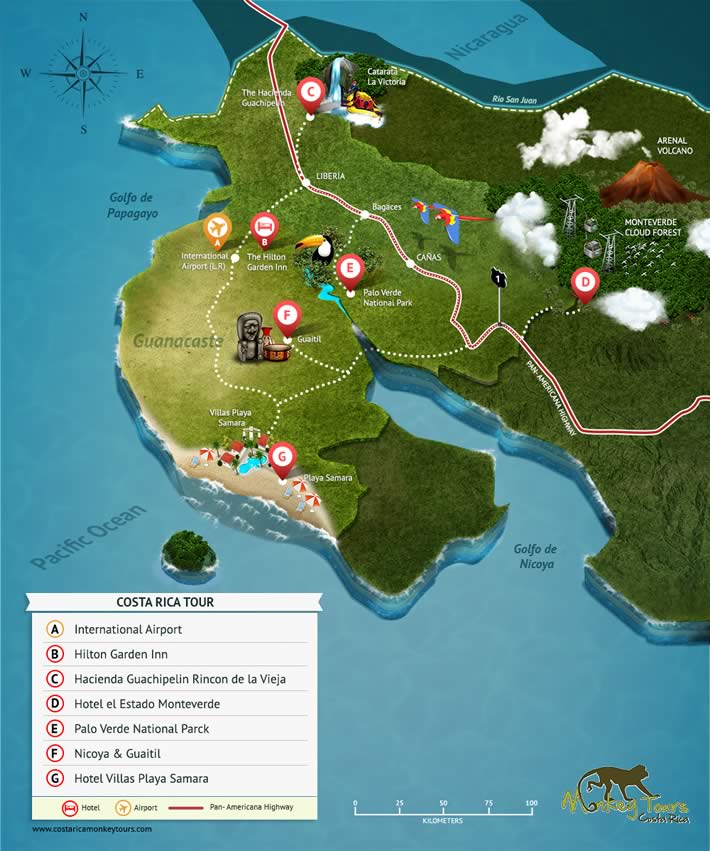 Accommodation
Guide
Meals
Other
Transport
Flights
Insurance
Terms & Conditions
Must arrive on a Monday or a Friday for our 2023 - 2017 departures dates.
Schedule traveling is mandatory you cannot skip any activities or traveling otherwise you will need to cover any additional costs, please let us know if you are unable to proceed with an activity to provide alternatives if applicable.
Up to 2 additional persons are accepted in the same room, charge per adult starting at $699 plus fees and for kids under 12 starting at $559 plus fees, for the whole package.
All bedding selection at each listed hotel or similar hotel are subject to hotel availability upon arrival
Must sign waivers.
Airfare not included.
Some Adventure tours have ages, height, weight and health restrictions.
Must be 18+ to check in at hotels or have a responsible adult for this tour.
Credit card and valid ID is required upon check-in.
Advertised prices are per person based on double occupancy. If a guest wants to travel alone, the rate starting at $1499.
Please contact our customer service department for an accurate quote for your selected dates. All prices are in US $ plus fees (15%).
All hotels or activities providers selected and offered on this tour may be changed at any time & for any reason by Costa Rica Monkey tours.
Official Rates:
Sept-Oct 4th from $999 p.p.
May-Jun / Oct 5th - Nov 15th from $1199 p.p.
Jan-Feb / Mar-Apr / Jul-Aug / Nov 16th- Dec 17th from $1299 p.p.
Dic 18th-Jan 4th / Easter Week from $1899 p.p.
All prices do not include 15% Fees.
Consult with your travel executive about the reschedule policies and penalties.
Cancelation Policy:
From anytime to 30 days prior to start of tour: the cancelation Fee is 50% of tour price.
30 days or less prior to start of tour or during tour: Fee is 100% of tour price.
Time of cancellation will be when notice is received by Costa Rica Monkey Tours office.
Important
Your shuttle back to the LIR airport is included on day 8th. Please keep in mind that all departures leave before 10am and will be scheduled on day 7th. Transportation on any other day to LIR is not included and has an extra cost of $150 for a private van. If you are extending your holidays in Costa Rica and need transportation to other locations, please look for our representative at Villas Playa Samara who can gladly assist you with any additional services.
PRICE
$1049
price per person

+15% Fees
*Prices in US Dollars
Valid for Travel from January 3rd to December 15th, 2023. Subject to Availability. Seats are Limited.
Book Now »

Toll Free from U.S. and Canada
+1 800 774 5228
Regular Price:
From £779 p.p

RATE IS IN DOUBLE OCCUPANCY
+15% Fees
*Prices in US Dollars
Book Now »

Call Us Toll Free from the UK
+44 800 066-2250
We are open from:
1pm - 5am local UK time