There is no greater feeling in the world than holding the reigns to a beautiful horse in your hands while you make your way through the stunning Costa Rican national forests. Most of the guided tours that are offered include horseback riding at Rincon de la Vieja area, a great attraction in this beautiful country. Although our tour destinations might change to ensure the best quality possible for our guests, all our guided tour adventure packages offer horseback riding , but if you are an avid horseback rider, you will certainly have several more choices of where you will be able to ride; including Samara Beach, alongside the mountains where the ocean views will truly take your breath away while you will get a chance to catch the sun setting high upon your steed.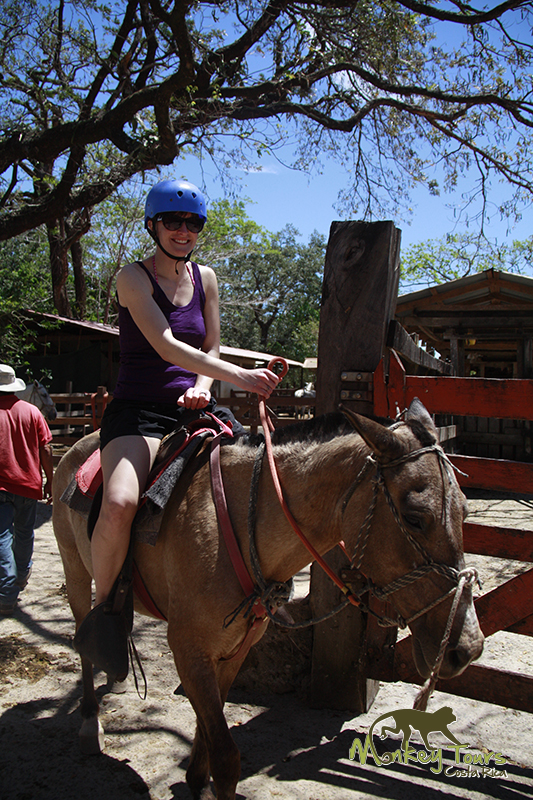 There is simply a natural elegance that comes with horseback riding that you just cannot get from any man made vehicle and our tour guides will make sure you savor every moment. The main horse that is ridden is the Criollo Horse , which is native to countries such as Paraguay, Brazil, Argentina and Uruguay. It is known for being able to endure more than almost any horse known to man, secondly only to that of an Arabian. In fact, because of its very low metabolism, some consider it a better horse than the Arabian when it comes to long-term racing. The Criollo Horse is both very muscular, with a very solid build, long neck, and sturdy legs. It is also very intelligent, which helps greatly with the safety of the rider, as communication is key when putting your trust into that of a living animal of such significant size. A truly magnificent horse, the two of you will connect almost instantly, for a friendship that will last as a memory for a lifetime.
Horseback riding has always been synonymous with adventure, and whether you want to be Indiana Jones for a week or simply get in touch with your inner equestrian, a tour of Costa Rica is simply not complete without a nice gallop along the terrain. When you are planning out your adventure vacation in the beautiful country of Costa Rica or Nicaragua regardless of how and with who you plan it, be sure to include a guided tour of horseback riding, as it may possibly become your favorite part of the entire trip!  Since we first began to ride horses there has always been a certain sense of adventure in the bonding between a horse and it's rider, and these well trained beauties are no exception, so come enjoy the adventure of a life time and experience what so many of our guests call the best part of their vacation!