River Rafting Costa Rica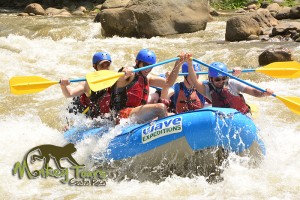 Being a first-time river rafter or a world class pro kayaker, Costa Rica Monkey Tours definitely offers the white water rafting adventure appropriate for your skills. It's true that rainfall makes the rivers rise and fall intensely, but you can get wild and wet here even in the dry season for sure! Costa Rica has a rainy season that lasts approximately 6 months, starting in May and finishing in November. During this period of time Costa Rica receives between 140-210 inches of water, which definitely highlights the green colors of the jungle in Costa Rica. This has also made Costa Rica able to provide clean energy to its inhabitants. For example, about 80% of the energy comes straight from Hydro Electric Sources.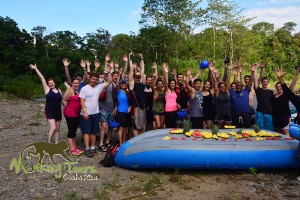 The growth of the rafting movement as a leisure sport has been popular since the mid-1970s, progressing from individuals paddling 10 feet rafts with double-bladed paddles to multi-person rafts driven by single-bladed paddles and navigated by a tour guide at the stern. We make sure that every location we use for our rafting adventures are the best and we are constantly in search for better options. This being said, among our current options for our adventure tours you will find the Toro River at the Arenal Volcano. While on this magnificent river anticipate seeing wonderful scenery and a thrilling ride. The Río Toro has its main flow of water beginning at the Poás Volcano. From here on, it progressively increases in mass as it accumulates water from slimmer streams. The Río Toro runs through dense forests and remarkable canyons before it finally empties into the Caribbean Ocean. Midway through the adventure lunch will be enjoyed along the waterside and at the conclusion; guests are treated to cold drinks,snack and a typical lunch.
The Tenorio River in Costa Rica is another white water rafting river we offer mostly as a day excursion from Playa Samara for avid adventurers that seek a great experience. This river originates close to the Tenorio Volcano where it becomes a wild moving river with 20 kilometers of perfect rapids for white water rafting, and then it flows on to blend with the Corobicí River. It is important to note that this is one of the best rivers in Costa Rica for wildlife observation. Joining on a rafting tour offers the possibility of not only feeling the rush and adrenaline of a fast rapid but also to view wildlife in the happening. Common sights among these rafting tours include sloths, monkeys and exotic birds. This being said, doing a rafting tour can often be enlightening and magical since you are literally entering the pure wildlife zone in its perfect essence.