Sky Tram Costa Rica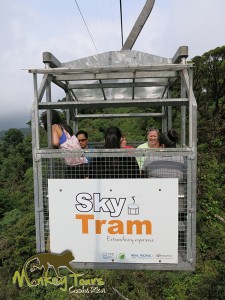 Have you ever wondered what it would be like to see the incredible landscapes of Costa Rica from a bird's eye point of view? Imagine flying like a bird high above the beautiful rainforests of Costa Rica. The elevation is incredible as you soar in a romantic gondola up to a beautiful ledge where you can look out over the beautiful natural environment home to the local Costa Rican natives. Adventure seekers are sure to love the Sky Tram, your own personal guided tour leading you up to freedom from all worries. You will be led up by a guide that speaks both English and Spanish. The rider is allowed to stop the ride at any moment, which makes taking pictures of the incredible animals a beautiful reality. Imagine, you see one of the majestic red Macaws, and you now have the chance to stop the ride, on its way up, pull out your camera, and take a beautiful photograph that will last a lifetime.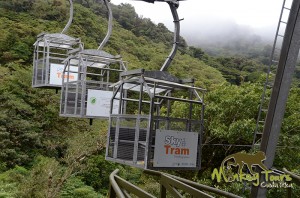 Once you reach the top, you are invited to observe the atmosphere from the observation deck, and you will receive a spectacular breathtaking view. While you are up at the top you can also view our famous hills and area of Monteverde or any other beautiful location where the Sky Tram will be provided in this Adventure Tour. You are free to take your time and observe as much of the lands rich culture before returning to your gondola and making your way back down the Sky Tram. There are two ways of ending your Sky Tram adventure, both led by our world class professional tour guides. You can take the gondola back down, or for the adventure seekers, you can take Costa Rica's famous Zip Line, under the supervision of one of our tour guides. This experience will take about 20 minutes both ways, and we heavily suggest that you combine this with one of our other attractions, such as Sky Trek and/or the famous Costa Rican guided Zip Line tour.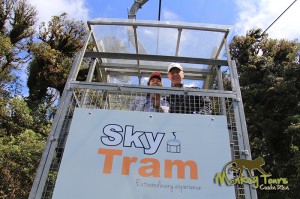 The tour guides are very funny and charismatic and we guarantee that you will feel like family as they put your fear of heights at ease, you will simply be laughing too hard to have anything but pure delight on your face as you make your way back down to your final destination. After you finish your adventure, how about finding one of the many restaurants at the bottom for you and your family to dine in and eat a world class meal while you celebrate your day's adventure.
Photographers, thrill seekers and anybody that just wants to get a bird's eye view of this beautiful landscape should definitely add this to their trips checklist. This is one that should not be missed!