Playa Conchal sets itself apart from other beaches in the area with its crystal clear waters and the alluring beach of seashells that shimmer in the sun.
Home to the enormous Westin Golf Resort & Spa, Playa Conchal has the links, professional masseuses and the tranquil sea to put your mind at ease. The resort comes with a number of various packages for its visitors including access to the facilities even when you aren't staying on the grounds. Along with The Westin Golf Resort & Spa, there are a number of other accommodations nearby and even beach front camp sites where you can stay overnight. Some of the other lodgings both in Conchal and in the the nearby beach of Brasilito include Reserva Conchal, Finca Buene Residence Hotel, Conchal Hotel, Quinta Esencia B&B and Apartotel Flor de la Ginesta.
Playa Conchal is a good place to set out on a fishing expedition, hit the water for a swim or snorkeling trip, check the tide pools or take to the waters in a kayak. There are sport fishing operators that lead tours in the area if you'd like to see what the great Pacific holds for you. The fishing in and around Playa Conchal is usually for Marlin, Wahoo, Mahi and many other large species of fish. The recreation activities in the Playa Conchal area are numerous, and you might want to pack a swimsuit, a fishing pole, a camera, snorkeling gear and beach items (i.e. bucket, shovel, beach ball, volleyball, etc.).
Playa Conchal is easily reached from the international airports in Costa Rica, but it is closest to the Daniel Oduber Quiros International Airport in Liberia, Costa Rica. Liberia is one hour and thirteen minutes from Conchal. The capital city of San Jose is five hours and forty four minutes away, and Juan Santamaria International Airport in Alajuela, Costa Rica is four hours and two minutes from Playa Conchal. There are major rental car services in Costa Rica including Alamo, Economy and Budget that can provide cars, and the route to the beach traverses jungle and ocean front with stunning views.
Location: Playa Conchal
Items to bring: a swimsuit, a fishing pole, a camera, snorkeling gear, beach items, bucket, shovel, beach ball, volleyball
Distance from San Jose: 5 hrs 44 mins
Distance from Liberia: 1 hr 13 mins
Hotels nearby: Westin Golf Resort & Spa, Reserva Conchal, Finca Buene Residence Hotel, Conchal Hotel, Quinta Esencia B&B, Apartotel Flor de la Ginesta
Ways to get here: rental car, taxi, private shuttle, bus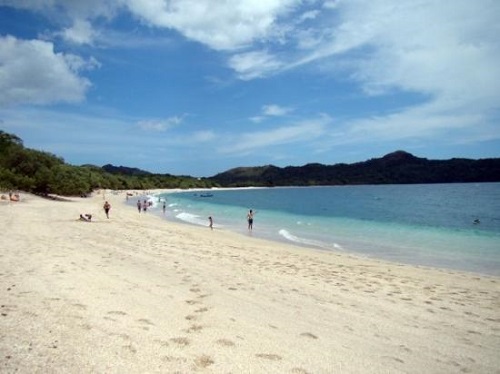 Social Share