Hit the beach on a galloping steed or head to the trails on the back of an equestrian friend, and either way you'll have a one of a kind tour in Costa Rica.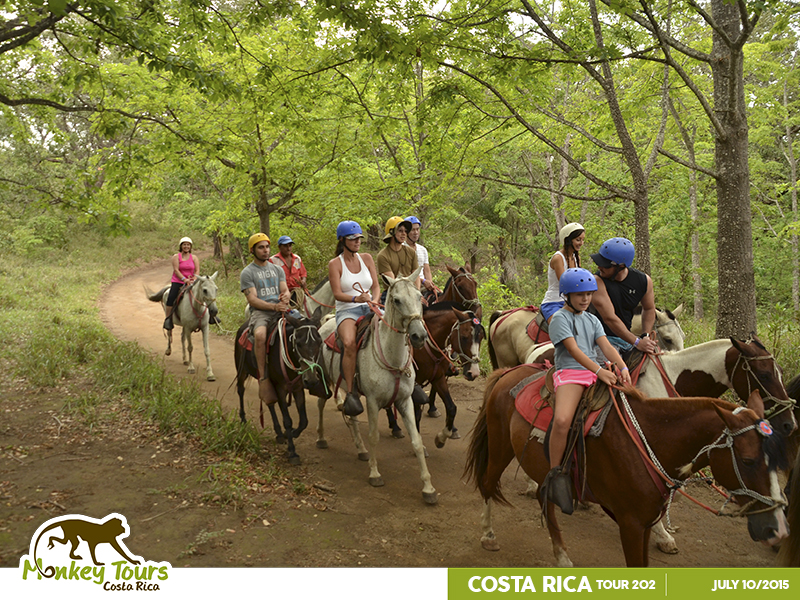 Where to Go
Depending on the kind of horseback riding tour you want to take part in, you may find yourself traveling along the shoreline, or you could head into the foothills of a volcano such as Rincón de le Vieja to seek out a hot spring and waterfall retreat. Horseback riding tours around beaches in Guanacaste, Límon and Puntarenas Provinces can be found at beaches such as Playa Samara and the nearby Playa Carrillo, Puerto Viejo, Mal Pais and Santa Teresa.
What to Bring
Many of the trips may be completed in the heat of the sun, and it would be best to bring some sun protection with you as you head through the mountain passes or down the shore line. Sunscreen, a hat and sunglasses are all recommended to keep you safe from the ultraviolet rays, and you should be sure to take water and stay hydrated.
Other articles to bring include a camera to get in some good pics or video. You may consider bringing a go pro with a head mount so that you'll have your arms at the ready to guide your horse. Jeans will aid you in the somewhat bumpy ride, and a swimsuit at the ready so that you can jump in the sea or head to a hot spring is also a good idea.
Extra Information
Tours can last anywhere from two hours to three or four. Most start in the morning around eight am, and continue through the afternoon until about 5 pm. There may be a larger number of people vying for the chance to go on horseback as the sun sets, so it might be easier to get morning trips scheduled. Really, any time may or may not be overly crowded, and you may want to schedule a big group tour anyway.

Items to Bring:jeans, swimsuit, sunscreen, hat, sunglasses, water bottle, camera
Times: 8 am to 5 pm in the afternoon
Locations: Playa Samara, Playa Carrillo, Puerto Viejo, Mal Pais, Santa Teresa
Duration: 2 hours++
Related Read:
A Costa Rica 7 Day Tour will Set You Free
7 Day Costa Rica Tour Packages serves the Best
Social Share