This red eyed, green and blue bodied amphibian is found in the tropical regions of the Costa Rican Rainforests, and camouflages itself for protection from predators.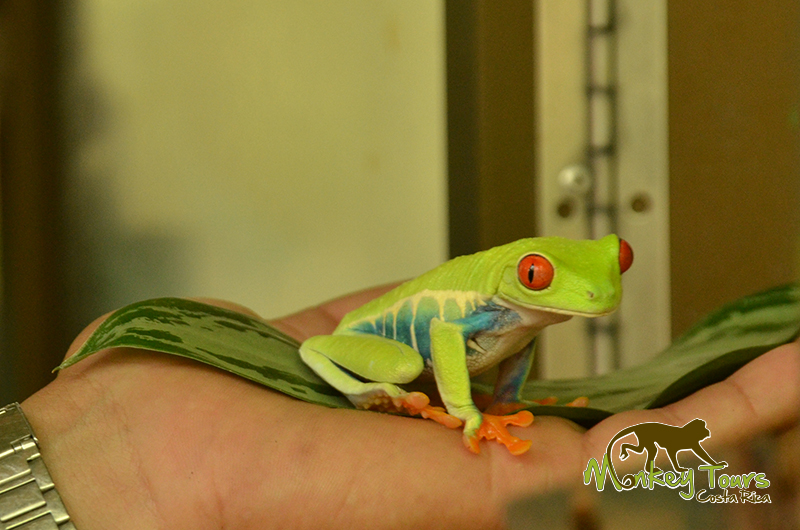 Distribution
The Red-Eyed Leaf Frog, also known as the Red-Eyed Tree Frog, is found from the south of Mexico through Central America and into the Northern Colombia. It lives close to rivers, streams and small bodies of water in rainforests, lowland forests, mangroves, and premontane forests. The Red-Eyed Leaf Frog is found most prominently along the Caribbean Coast in Costa Rica, and a good place to spot these colorful amphibians is Tortuguero National Park.
Mating & Reproduction
Red-Eyed Tree Frogs usually mate in the rainy season, and when the rain is falling at its greatest crescendo, the male Red-Eyed Leaf Frog calls out to the female. The frogs mate via amplexis where the smaller male gets on the back of the larger female. The female then carries the male for several hours before depositing eggs on a leaf above a river, stream or small body of water.
After the eggs are deposited, they develop into tadpoles over the course of about seven days. Next, the tadpoles hatch and fall into the water below where they remain for as little as three weeks to as much as several months. The tadpoles show something called phenotypic plasticity which means, essentially, that they can speed up or slow down their time in gestation based on perceived threats. If for instance a dragonfly, fish or a temperature change threatens to dispatch a developing tadpole, they will hatch earlier than normal.
Behavior
These tree dwelling vertebrates use vibration as a means of communicating with possible mates. Males softly shake smaller tree limbs in order to attract females. They also remain almost entirely motionless during the day, and tuck their back legs and underbellies flat against leaves of the trees that they inhabit. This camouflages the tree frogs. At night, the Red-Eyed Tree Frog, which is an insectivore, eats crickets, moths, flies and other insects that it finds while hunting making it a nocturnal animal, as well.
Miscellaneous Info
The Red-Eyed Leaf Frog has three eyelids, and its pads are sticky allowing it to cling to tree leaves more easily. It is also a powerful jumper, and can bound between the trees that it lives in. Its ventral skin is soft and fragile, whereas the skin on its posterior is hard.
Some of the animals that prey on Red-Eyed Tree Frogs include snakes, bats, spiders and birds.
Where to see in Costa Rica: Tortuguero National Park, La Selva Biological Station, Cahuita National Park, Arenal Volcano National Park
Diet: crickets, moths, flies
Habitat: rainforests, lowland forests, mangroves, and premontane forests
Size: length=30-71 mm weight=undefined
Species: Agalychnis Callidryas
Social Share