Barra Honda National Park in Costa Rica maintains an exquisite limestone cave system that brings in spelunkers and general explorers from around the world.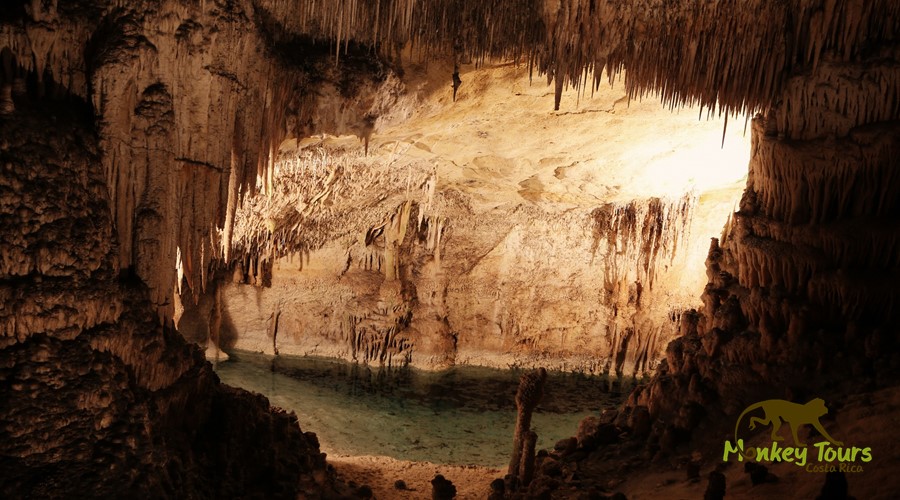 Location
On the Nicoya Peninsula in the Province of Guanacaste, Costa Rica, lies Barra Honda National Park. This national park is unique among the national parks of Costa Rica due to its network of caves that are the home to more than 5,000 bats, and many different kinds of calciferous rock formations. There are 42 caverns in the Barra Honda system. Of the 42 caves only 19 of them have been studied by Speleoligists, and only two of the caverns that have been studied are open to the public for viewing.
Spelunking
Since the main attraction of Barra Honda is primarily focused on spelunking, you may want to pack accordingly for some time spent underground. Some of the things you may consider bringing are a headlamp or flashlight, hiking boots, a camera and possibly a black light for viewing the stalactites and stalagmites under (or in some cases above) a phosphorescent glow. There are several tours that head into the Barra Honda caverns.
Fauna at Barra Honda
Along with bats there are many other animals that find a safe haven in Barra Honda, and when you decide to emerge from the depths of the limestone caverns, you'll see a thriving ecosystem above. Some of the animals in the area include mammals, reptiles, amphybians, insects and more than 80 species of birds. Some of the birds in the area include the white-throated magpie, the orange-foreheaded parrot, the band-tailed pigeon, the blue-crowned motmot, the white-tipped dove, the turkey vulture, the scarlet macaw, hawks and other magpie varieties. Of the mammals in the park you'll find howler and white-faced monkeys, coyotes, coatis, raccoons, Central American agoutis, white-tailed deer, anteaters, opossums, armadillos and skunks.
Flora at Barra Honda
On the magnificent three hundred meter flat mesa of Barra Honda Hill and the surrounding acres of the Tempisque Valley there are also a lot of plant species that might draw in greenery enthusiasts with enticements such as reeds, epiphyte plants, many types of trees and bromeliads. Some of the tree species include the ron ron, the gallinazo, the gumbo-limbo, the poro-poro, the strawberry tree, the crust tree, the Guanacaste, the shortleaf fig, the mahogany, the rain tree, the true yellow mombin, the yellow timber tree, the pink shower tree and the savannah oak.
Getting There
The Barra Honda National Park is closest to the town of Santa Ana, and can easily be reached by car, taxi or tour bus. The Nicoya peninsula is served by Sansa Air and Nature Air in a few cities including Tamarindo, the Samara-Carrillo area and Tambor. It may be a good idea to reserve a four wheel drive vehicle in the rainy season from the end of May to the middle of December.
Location: Barra Honda National Park
Items to bring: a headlamp or flashlight, hiking boots, a camera, a black light
Species of fauna: howler and white-faced monkeys, coyotes, coatis, raccoons, Central American agoutis, white-tailed deer, anteaters, opossums, armadillos, skunks
Species of flora: the ron ron, the gallinazo, the gumbo-limbo, the poro-poro, the strawberry tree, the crust tree, the Guanacaste, the shortleaf fig, the mahogany, the rain tree, the true yellow mombin, the yellow timber tree, the pink shower tree, the savannah oak
Cities/Beaches nearby: Santa Ana, Playa Samara, Playa Carrillo
Ways to get here: Rental Car, Tour Bus, Plane, Taxi, Private Shuttle
Social Share